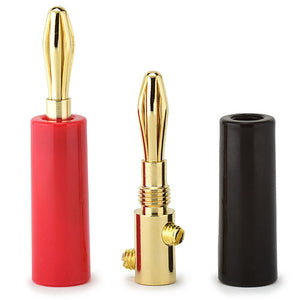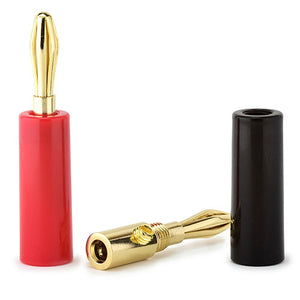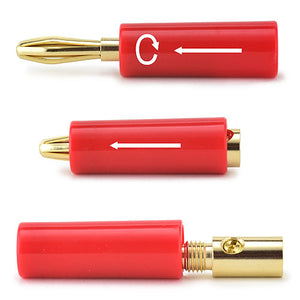 Kontak Audio Gold Plated 4mm Twin Screw Banana Plugs
Gold plated 4mm speaker banana plugs with two brass screws for quick and easy cable termination.
The red and black covers screw over the front of the plug so they can be fitted after the cable is terminated.
The brass body is gold plated for excellent signal transfer and accepts cables up to 3mm diameter.
The covers are made from rigid plastic to prevent amplifier shorting, making them much safer than all metal plugs.
These quality connectors are much safer than using bare wire and are a popular choice for hi-fi and home cinema systems.
Specification:
Tip length: 16mm
Overall length: 49mm
Overall diameter: 11mm
Maximum conductor diameter: 3mm
Cover internal diameter: 8mm
Body: 24K gold plated brass
Cover: rigid plastic
---